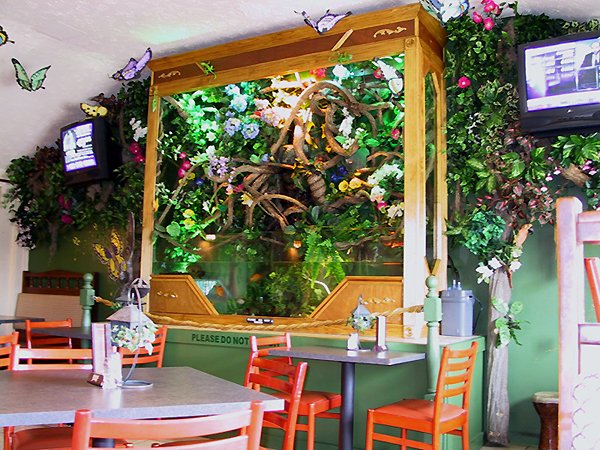 This design has a pool centered within the unit. This can fill up to any desired level, whether you want it filled just within the pool area, or up and over onto the left & right land sides.
This also makes maintenance easy as rinsing the unit down into the pool enables the pump to quickly flush out the waste. The pump can be placed into the pool area during cleaning.
With the pool in the center, it is a spectacular way of displaying your animal whether it basks over the pool or bathes & soaks in it.
The rock sculpture is positioned towards the rear center of the pool, as the waterfall trickles down to the basin of the habitat.
NOTE: Because of the labor in design, this unit is the most expensive among all the other designs we have available.
The minimum length on this design cannot be any shorter than 5 feet in length. This is because there needs to be enough room to allow for land on both sides of the unit as well as enough pool area at the center.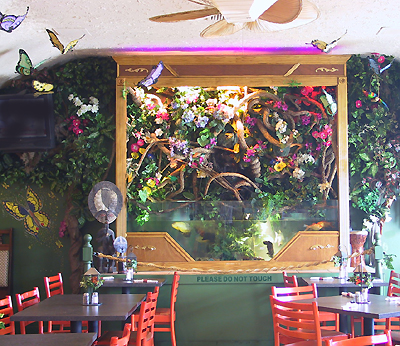 Usually all enclosures are priced as a complete system including the following:
1.) 12" high Light system - 4 ceramic fixtures or more for incandescent lights.
2.) Self priming Pump for flushing.
5.) Unit stained to your preference.
6.) 1/2" to 10 inches deep in pool area.
7.) Lower storage cabinet.
8.) Ventilated top rear within light system.
9.) Controls to operate lighting & pumps.
10.) Waterproof Rubberized lower Interior.
11.) Branches, Greenery & Flowers.
12.) Bottom wheels allow for mobility
13.) Water fall rock structure
14.) 2 Tempered glass doors
15.) J.WORLDS delivery & setup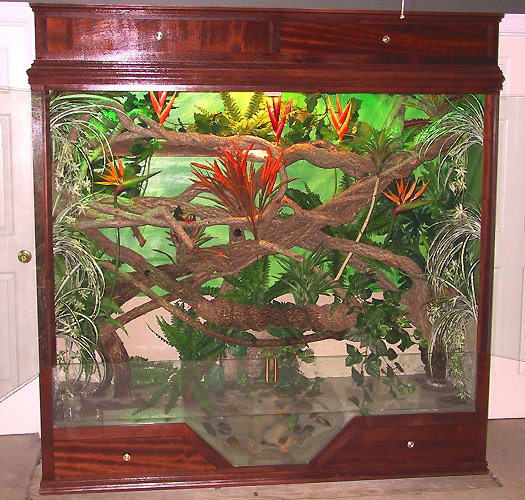 This system is great for tropical reptiles such as:
Iguanas, Water Dragons, Chameleons, Tree Monitors, Pythons, tropical snakes.