The following date back prior to 2

010
The following are referrals of clients that provided their comments by written form & video.
Most have provided their email addresses for a contact if you wish to inquire.
I wanted to thank you for the beautiful new enclosure for my red tail boa "Kaa". Your expertise and knowledge of reptiles will always leave you second to none. I have waited and saved for the enclosure for 3 years. It was worth the wait and one of the best investments I've ever made.
Maintenance of the enclosure is very easy. I used to empty my 40 gallon breeder tank (so boring) every week and clean it. I will not miss buying mulch! Cleaning is so easy now. I thank you for being so detail oriented in showing me how to maintain it and answering all my questions.
I also want to thank you for adding the underwater heater at the last minute,as I overlooked that. One of biggest problems I've always had is keeping adequate humidity in the tank,especially in the winter. With this enclosure humidity is never going to be a problem.
When people walk into my living room they are literally in shock over the beauty of the unit,it's waterfall,the lighting. It really is gorgeous! The unit wil l bring my family and I years of enjoyment. My snake thinks I've let him go into the wild! I know he was bored in that old states quo tank. We have difficulty getting him out! It's clear to me that he is much happier in his new home.
Jay you are a top notch, multi-talented professional. The ordering process was easy, you were very flexible with delivery as I was painting and re-finishing a floor. Thanks for working with me on the time of delivery. I would like to tell anyone considering buying one of these spectacular units that they may contact me anytime for a recommendation. It was worth the wait and the money!
Thank-you Jay,
Laura Rose
Email: lbrjr1@comcast.net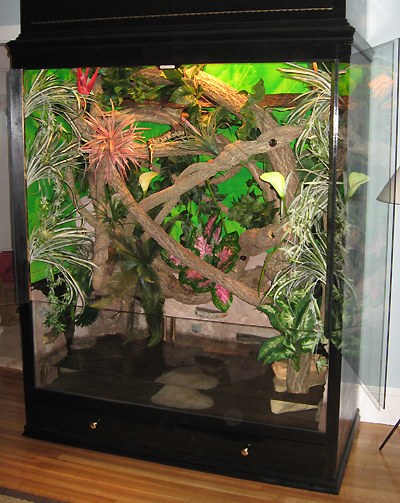 One of the most important considerations for Chinese Water Dragons is a proper enclosure. The dragons grow between 2-3ft and sometimes larger so you really need a Jworlds enclosure to house them safely. I can't imagine having anything else. Jay is a combination sculptor, artisan, craftsman, plumber, electrician, and engineer in order to make such a unique, high quality environment for reptiles.
All the components are high quality, low or no maintenance. I added a nesting box (removable) that resulted in a new clutch of seven dragon eggs currently incubating. I also added an automated misting system from Promist. The only thing we do is add crickets/mealworms/silkworms and exchange the water at least bi-weekly (filter medium as req'd) and its self-maintained. The UVB bulb is replaced per mfgr suggestion. We're meticulous about the water level so we will add some water weekly.
The enclosure is a beautiful piece of furniture and quite an attraction for our visitors. The dragons love hanging out on the natural thick branches and diving from high above into the pool. Jay took detailed notes and was a good listener in designing our enclosure. He built it in Connecticut and drove it to our home in South Carolina and assembled it onsite. He even designed a pass-through hidden portal in the rear of the enclosure to allow access to our thermostat. The heavy – duty construction allows safe movement of the enclosure if required.
Jay's service and support have been world-class or should I say "jworlds" class. He has always been available to answer questions or offer suggestions. His attention to quality and detail is meticulous and he makes sure you understand proper maintenance, providing you with all the tools you need including pump, hoses, bulbs, etc.
Materials used are of the best quality available and all construction is heavy duty. Upon completion Jay will leave you with a list of replacement parts and supplies required for easy maintenance. We love our jworlds enclosure and our water dragons and would not hesitate to recommend jworlds if you're truly focused on having the best enclosure for your exotic reptiles. Warm Regards, David and Katherine Finley
Email: David_Finley@PremierInc.com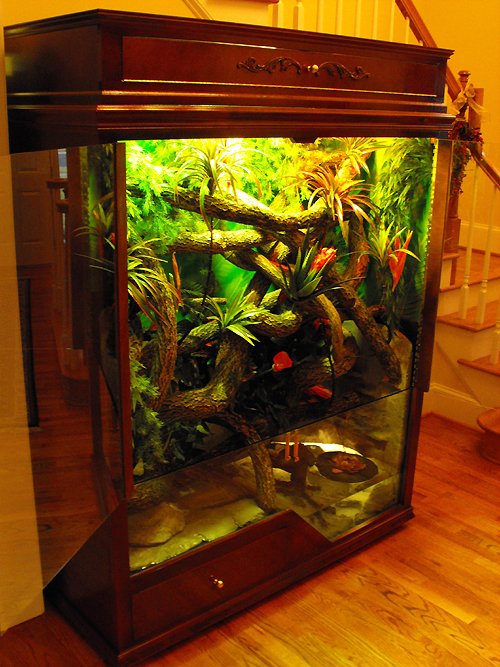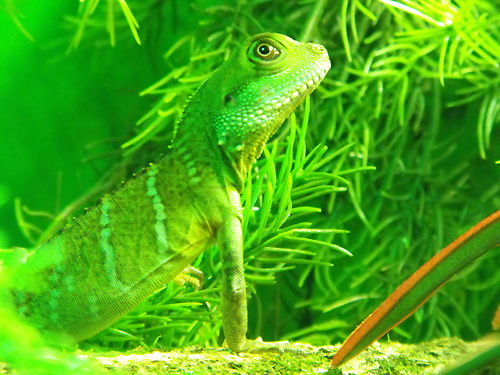 Shawn Souto, NJ

Iguana

When I think of my enclosure that I have received from Jay Worlds, it quickly becomes difficult to put together all of the words that come to my mind. My first impression is "a completely unbelievable enclosure that puts some zoo exhibits to shame", though upon deeper inspection I am even more grateful for his excellent customer service.
Any time that I have had any concerns, Jay has always been there right away to help me address any and all of them quickly and completely.
For example, I wanted to know something simple such as what other animals could peacefully co-exist with my iguana. Now this is something that I could have researched on my own, but his immediate response shows how much he really does have an in-depth understanding of reptiles. And this is something that is key for a custom built enclosure.
Why would you want some fabricated enclosure built (for nearly the same price) by another company who does not have first-hand experience with the animals going into the enclosure, when you could have Jay, who spends his time learning as much about the animals as he can, so he can make the enclosure more customized to fit the needs of the particular inhabitants living within it?
Another unrelated experience which I had was an issue that arose because I had to move my enclosure from one location to another. Jay has even offered to help move my enclosure! Now where else can you find customer service that is that dedicated?
All I can say is that if every other business out there had the heart and the dedication which Jay does, then the world would be a much better place. Thank you Jay for everything you have done, and please feel free to recommend your clients to me for further questions that they may have. Your skills, and your dedication to your clients is greatly appreciated."
Email: shawn.souto@gmail.com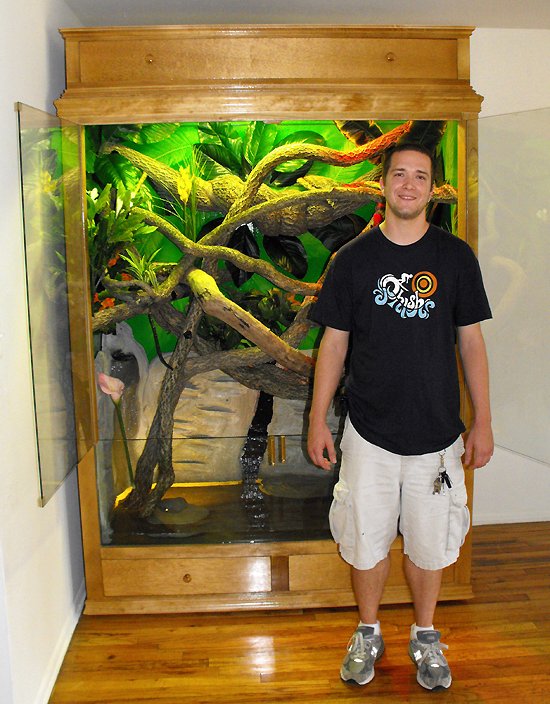 Indiana Airforce -National Guard
This
Unit was custom built 12/17/06 for a Black Snake - Mascot representing F-16 Fighter Jets named "Black Snakes" at the Fort Wayne International Airport-122nd Black Snake Fighter Wing
Tony" the Blacksnake has been in his new home for almost 2 months now and absolutely loves it! He is hanging out in a different place everyday and on the move on a regular basis. The enclosure will be a part of the building for a long time. Thanks for giving us an extremely well built and attractive place for Tony to live for many years to come.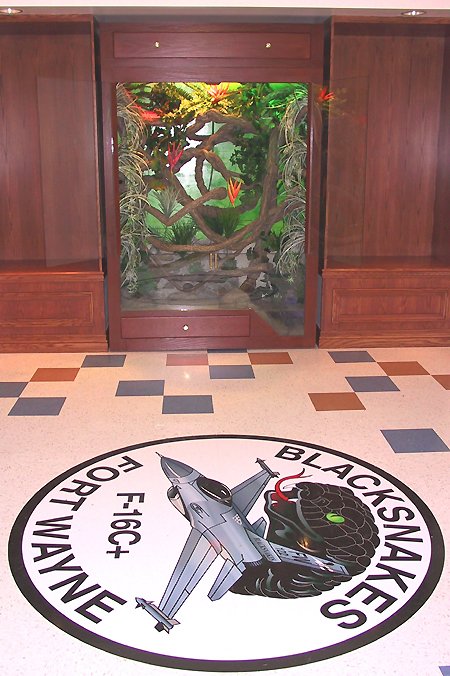 Minya, my iguana, is ecstatic about his new J-World. If iguanas could smile his little green face would have a permanent grin on it since he's moved in. He swims, climbs, and basks like a happy lizard in his J-World and he does it in style. Not only is Minya's home enjoyable for him, it's beautiful to look at for the humans on the outside of the enclosure.
J-Worlds' reptile homes are ideal for both reptilian inhabitants and human consumers as well. This should be no surprise as Jay Nelmes is someone who has not only kept reptiles and exotic pets himself, but he also clearly has a love and adoration for the creatures that live inside the homes he builds. Not only are his creations spectacular in terms of aesthetics, they are also ideal in terms of functionality.
Although they can be expensive, buying one is money well spent because in the long run you will spend less money on supplies at your local pet store. In the end, buying a J-World gets you a zoo-quality enclosure that for all intents and purposes becomes a little slice of rain forest in your living room.
Thanks for everything!
Peace,
Alex
Email: Alex Pierpaoli insectpolitics@alexpierpaoli.com
Check Out his Boxing web site here!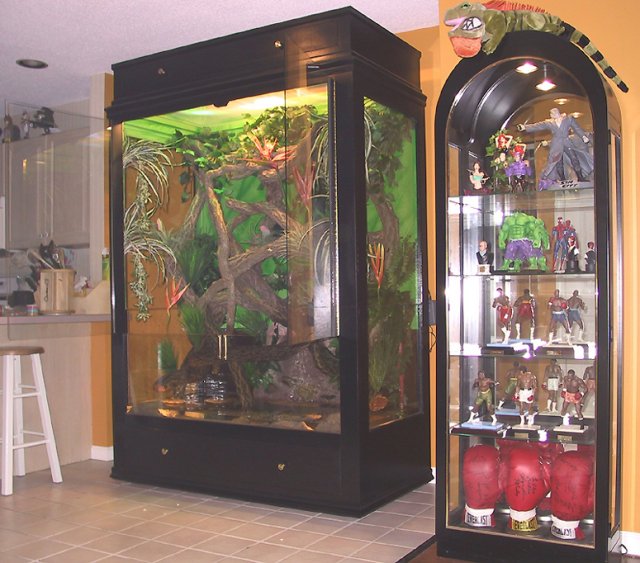 Emma & Devon Hillard - Chelmsford, MA 10/31/08

Iguana

When we first adopted Fifi she was given a 50/50 chance of survival by
our local vet. Since then she's blossomed into a super healthy iguana,
even though her left arm had to be amputated, due to an untreated (by
previous owners) bone infection in her left "hand". We've always
wanted her to have life that was as normal & natural as possible.
When we decided to buy our first house, we decided that Fifi needed a
permanent enclosure that she would be comfortable in & we wanted that
to be a nice looking piece of furniture that wouldn't stick out like a
sore thumb in our house.
J. Worlds was GREAT to deal with. We discussed our price range, plus
special requirements that we would need to accommodate our handicapped
lizard. Jay was able to build a beautiful enclosure that was also
handicapped accessible, by adding some extra shelves to help her
balance better. Delivery was a breeze. He and his wife showed up on
time and spent good bit of time setting everything up and making sure
that everything was working properly. They also gave a detailed
walk through of exactly how everything worked from the lights to the
water pump. The build quality on the enclosure is absolutely amazing
as well all the artistic details (the painting and all of the flowers
and everything). You can tell that they are really dedicated to
producing the highest quality product possible.
Fifi absolutely loves her new enclosure. She originally had a bit of
trouble getting out of the pool, due to her being minus a limb, but
Jay was extremely helpful in figuring out a solution. Fifi is now able
to maneuver throughout her enclosure with ease, although she loves,
and spends most of her time lounging on the highest vine, directly
under her lights.

I definitely recommend the enclosures by J. Worlds, especially for
special orders. They totally took Fifi's disabilities into account, as
well as our requirements for the enclosure to blend into our home.
They were great to deal with throughout the process, and I'd be happy
to answer any questions that people might have.
Thanks so much!
Emma Hillard
Email: emma@emmasart.com